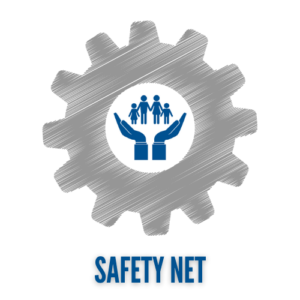 United Way of the Wabash Valley has awarded a total of $117,475 to 11 organizations across the Wabash Valley that are providing safety services.  This annual funding provides resources for vital services such as food, shelter, and clothing.  Safety net programs have always been a staple of the United Way's investment in our community.  These programs provide a critical service to many struggling individuals and families in the Wabash Valley.
The list of awardees includes:
12 Points Brown Bag Project – $2,000 to provide sack lunches to residents living in public housing in Terre Haute.
American Red Cross – $15,000 to provide disaster cycle services to families facing disasters such as flood, tornado, or house-fire.
Brazil First United Methodist Church – $13,750 for their Somethings Cooking Pantry Blessings which provides weekly meals, Coats for Kids, and The Shoe Ministry which provides coats and shoes to local elementary students in need.
Council on Domestic Abuse (CODA) – $7,000 to provide case managers and safe housing for victims of domestic violence and sexual assault.
Kid Kare Project – $15,000 to provide items and financial assistance to children ages 0-18 in Parke, Vermillion, and Vigo counties.
Manna from Seven – $10,000 to provide food to needy individuals and families.
Mental Health America of West Central Indiana – $7,325 to aid their PATH program which provides housing and case management services to homeless individuals.
Parke County Resource Center – $15,000 to provide food and hygiene items to families in need.
Joseph University Parish – $2,400 to aid the St. Joseph University Parish Samaritan Ministry which provides stable housing and prescription assistance.
The Salvation Army of Indiana – $15,000 to provide immediate financial assistance to residents of Sullivan, Clay, Parke, and Vermillion counties who are struggling to meet their basic needs.
Catholic Charities of Terre Haute – $15,000 for Bethany House which aids vulnerable individuals to meet basic needs of life and avoid homelessness.
Richard Payonk, Executive Director of the United Way explained, "The United Way is working to take a comprehensive approach to address generational poverty in our community.  Safety net programs like these play a role in working towards our overall community goal to move 10,000 families out of financial struggles and into stability.  Many families in our community are feeling pressures and are stretched even thinner than before.  A small financial struggle to most could be devastating to a family living on the edge.  These programs provide a safety net to help families make ends meet when it matters most."
Stuart Powell, United Way volunteer, and Safety Net Review Team lead expressed gratitude, "These programs day-in and day-out provide vital services to families and individuals.  Without their dedication and hard work, many more in our community would go without their basic necessities.  We want to thank all of these organizations and their staff for the services they provide and the devotion they show to the community.  We are honored to be able to support these organizations."