The United Way has installed five Book Nooks in Wabash Valley laundromats and is looking to expand its efforts to even more locations!
Book Nooks create safe, engaging places for children and families to read and learn together while they are waiting, like for laundry to wash and dry. These nooks are proving to be a success in laundromats, with children reading and interacting more with their families. Because of this success, we want to expand nooks to other places where children and families have to wait. Ideas include health centers, housing authorities, service centers, and more.
Each nook is supplied with a set of start-up books and is replenished as children take them home to keep reading.  They include kid-friendly table and chairs, a bookcase, a washable rug, and a cycle of 20 replacement books every 2 months.
How can you help?
United Way is seeking donations to support the expansion of our Book Nook program.  Every dollar raised in this campaign will be invested into the Book Nook program, with a goal of $25,000 to provide 12 new Book Nooks across the Wabash Valley.
Donate from the list of options below, or choose an amount to help support the children of the Wabash Valley.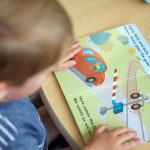 $15
Books for a Family
Provide a set of books for a family to take home from a Book Nook.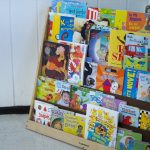 $75
Initial Set of Books for the Nook
Provide the initial set of books for a local Book Nook.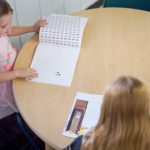 $750
Year Subscription of Books
As books go home with kiddos, help replenish the Book Nook with new titles over the entire year.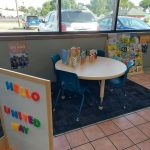 $1,500
Create a Nook
Create a Book Nook in a Wabash Valley location and have your name/business displayed as a supporter.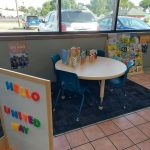 $2,300
Sponsor a Nook
Create a Book Nook including all of the books for a year in a location across the Wabash Valley and have your name/business displayed as a sponsor.
If you have an idea for a Book Nook location or if your business would like to directly support the campaign, contact United Way at [email protected] or 812-235-6287.