"Poverty is a small word that weighs heavily on the shoulders of many of the Wabash Valley who make the impossible choice between paying rent and putting food on the table."
The Challenge
Too many children and their hardworking parents know too well what it's like to live without. Without food or a place to call home. Without a job that offers advancement opportunities. Without a doctor. Without the knowledge that college is an option. Without opportunity.
Many individuals and families living in our communities are walking a financial tightrope by barely surviving let alone trying to save for a home, college, or retirement. United Way is working to help provide a safety net to those with emergent needs.
Why it Matters
Poverty will touch the majority of Americans at some point during their lives, even if only for a few months.
The good news is that poverty is not a fixed state. Roughly half of those who reach the poverty level will get out within a year. Life can create an immediate need for assistance to a large section of our community. Sometimes a flat tire can cause a family to go without food. "Safety Net Services" are emergency services that are vital such as food, shelter, and clothing.
What We Are Doing
Our Safety Net impact council focuses on the continued support of these services in our community.  While not providing a long term solution to reducing the cycle of poverty, covering safety net needs is a vital first step on the pathway to success. It will remain as a solid base of support in our community while our councils will look at long-term root cause solutions.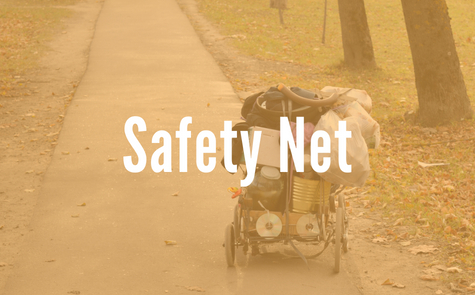 Provide immediate and emergency assistance of vital needs such as food, shelter, and clothing.
2022 Safety Net Awards
12 Points Brown Bag Project – $2,000 to provide sack lunches to residents living in public housing in Terre Haute.
American Red Cross – $15,000 to provide disaster cycle services to families facing disasters such as flood, tornado, or house-fire.
Brazil First United Methodist Church – $13,750 for their Somethings Cooking Pantry Blessings which provides weekly meals, Coats for Kids, and The Shoe Ministry which provides coats and shoes to local elementary students in need.
Council on Domestic Abuse (CODA) – $7,000 to provide case managers and safe housing for victims of domestic violence and sexual assault.
Kid Kare Project – $15,000 to provide items and financial assistance to children ages 0-18 in Parke, Vermillion, and Vigo counties.
Manna from Seven – $10,000 to provide food to needy individuals and families.
Mental Health America of West Central Indiana – $7,325 to aid their PATH program which provides housing and case management services to homeless individuals.
Parke County Resource Center – $15,000 to provide food and hygiene items to families in need.
Joseph University Parish – $2,400 to aid the St. Joseph University Parish Samaritan Ministry which provides stable housing and prescription assistance.
The Salvation Army of Indiana – $15,000 to provide immediate financial assistance to residents of Sullivan, Clay, Parke, and Vermillion counties who are struggling to meet their basic needs.
Catholic Charities of Terre Haute – $15,000 for Bethany House which aids vulnerable individuals to meet basic needs of life and avoid homelessness.