United Way of the Wabash Valley's Success By 6 initiative is offering early childhood literacy project grants to local educators and organizations. The goal of the Success By 6 Early Childhood Literacy Projects program is to provide funding to early childhood educators, childcare providers, and/or early childhood focused community organizations for the purpose of conducting an experience that will nurture a love for reading and learning in young children (0 – 5) and their families. Each grant program will require a parent/family activity focused around a book(s), and each child must receive a copy of the book related to the activity. The United Way will award multiple grants with each at a maximum amount of $1,000.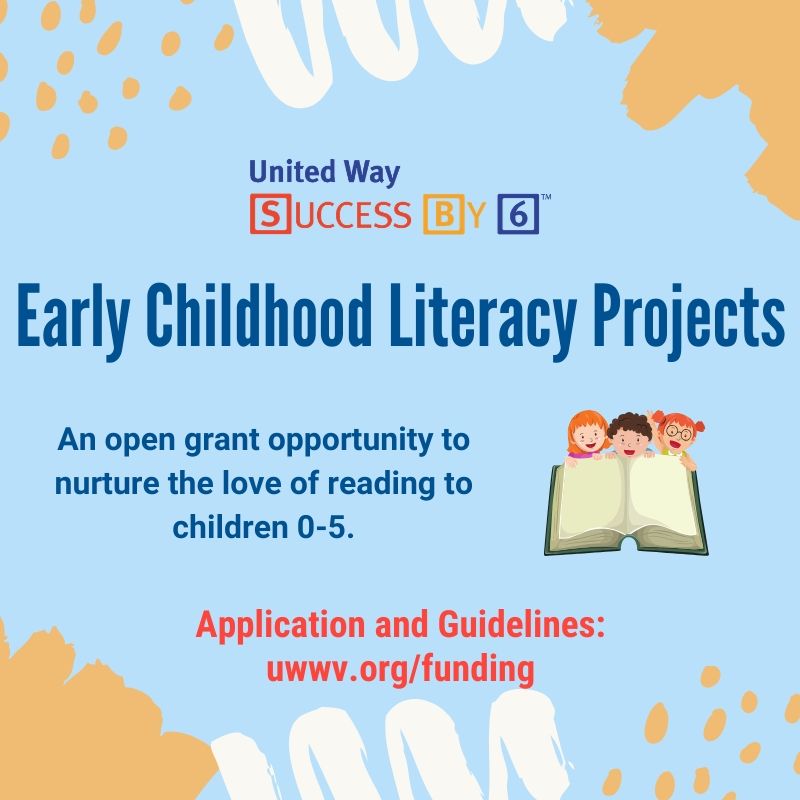 This grant program supports groups who have an interest in developing innovative literacy-based programming and experiences for the families they serve, as well as those who want to provide increased exposure to early literacy. Parents are their child's "first teachers," and it is imperative to help build a strong connection with parents. Learning happens not only at preschool or at childcare, but also at home. Research shows that promoting reading in early childhood development promotes brain growth and helps to prepare students for kindergarten. This grant opportunity is just one of many ways that Success By 6, an impact council for the United Way, mobilizes community resources to ensure that young children are provided with nurturing learning environments during the critical development years of birth to 6 in order to ensure that children enter school ready to succeed. All of their programs work towards the organization's bold goal of moving 10,000 families out of financial struggles and into stability.
Holly Curtsinger, the grant chairperson, stated that "the goal of providing families the opportunity to learn and read together is in hopes that it will continue past this single event. The acquisition of early language and literacy skills are crucial for future academic success. This grant allows interested individuals and agencies the opportunity to provide high-quality literacy-based experiences that will enhance the overall development of the children served and position them for positive outcomes."
Grant applications will be due to United Way by 4 PM on November 8th. For more information and to download the application visit uwwv.org/funding or contact Mark Johnson at [email protected] or 812-235-6287.