When you need volunteers, who you gonna call? United Way!
Serve the Valley is all about making a community impact, but that impact can take a lot of different forms.  Volunteers find themselves all across the Valley doing many different things.  Some of our volunteers this year helped out at local Humane Societies with cleaning, general maintenance, and in some cases,  some loving and playing with animals.  In Brazil over 50 people spent a Saturday morning building beds for kids that don't have one.  Trails were built in local parks.  Breakfast was served.  Meals were packed, and ramps were built for people who couldn't easily get out of their house any longer.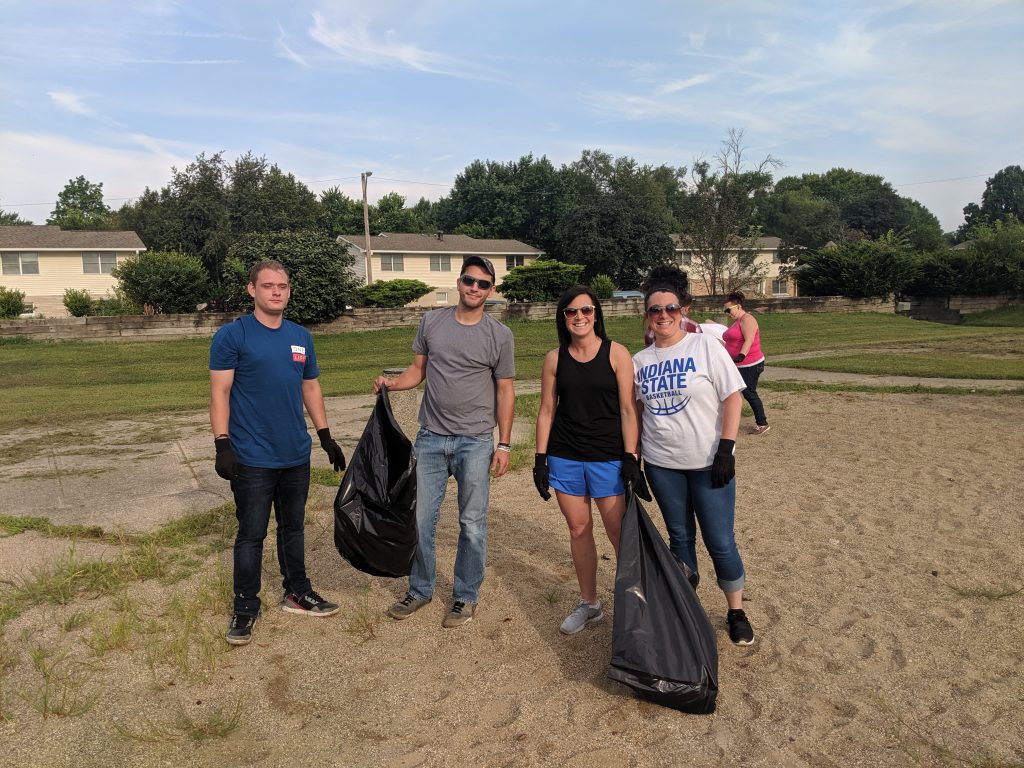 In Lockport Housing Community, however, it was much more than simple work.  Volunteers were preparing for a Block Party for the community where kids could play games, try dunking someone in the dunk tank, go on a horse ride, and eat some perfect summer food.  All of this was provided by Torchhouse – Igniting Citywide Prayer and several churches in the area.
One of the main people behind the Block Party and especially the clean up of the area was Lawrence Urlik.  When I first read his name, I pictured a Viking-of-a-man, perhaps I just watch too much tv.  Instead, I was greeted by a man who lives for Christ and gives off a bit of a hippie vibe.  He is also not tall; which was a bit of a disappointment to my Viking type image, but it suits him just fine.
I had a fair amount of questions that I wanted to ask Lawrence, but when I asked him my first, he seemed to go into 90% of everything I wanted to ask.  This is a man who knows why he's here and what he wants to accomplish!
"Who are you?"
"My name is Lawrence Urlik.  I'm director of Torchhouse, which is a citywide prayer ministry.  We are made up of a lot of different people, lots of different churches.  Mainly we focus on ministry and prayer, but we're in this neighborhood.  We moved to this neighborhood five years ago.  We thought, really strongly, that we should do a block party for the neighborhood.  So, since that time we've invited other churches in the neighborhood to partner with us.  This year is definitely our biggest block party and biggest collaboration.  We have seven churches within a mile of this facility that are partnering together to do this massive block party.  We're going to basically fill this entire (area).  Like the lawn behind you and the basketball court and this whole area will be used.  We're going to have food, bounce houses, live music, games for kids, and prizes and raffles.  Just tons of stuff."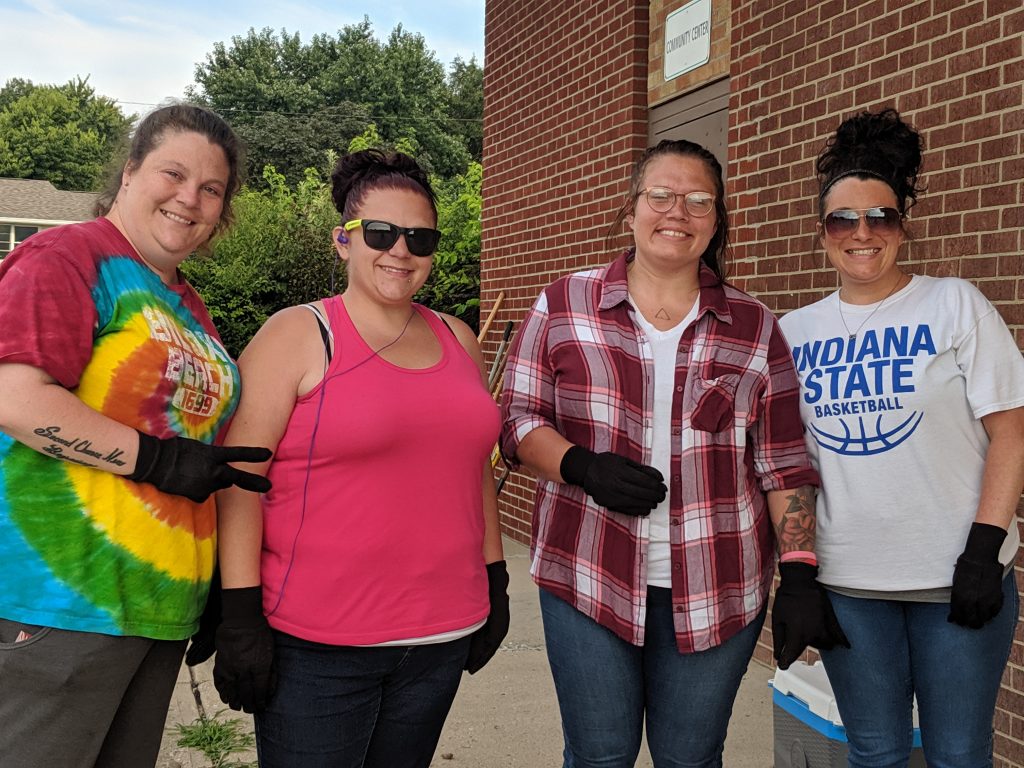 When he first began talking it was a steady pace of speaking.  He was getting me the information I needed and making sure to cover all the bases, but as he went into talking about the block party itself you could see the excitement in him and hear it because he began to talk a bit fast. It may not be Jennifer Mullen's clean up, but it is making memories with family that some of those families may not have the ability to create often.
I ask him how he feels about Serve the Valley and getting volunteers.
"It's awesome! It was such a blessing because I didn't know that Serve the Valley was happening the same weekend as our block party.  So, it just happened to be available and I asked the leadership of Terre Haute Ministries about getting volunteers and there like 'yeah, absolutely.'"  Even though he's excited, Lawrence's eyes are darting around the playground that a few people have already begun working on.  I got here right at the start of everything and volunteers are still coming in to help.
One woman is bouncing around the playground pulling weeds.
"She's in her happy place.  She could do this all day," her husband informs me.  While some of the other volunteers are going at a slow but methodical pace, she has moved to three different places in the span of five minutes.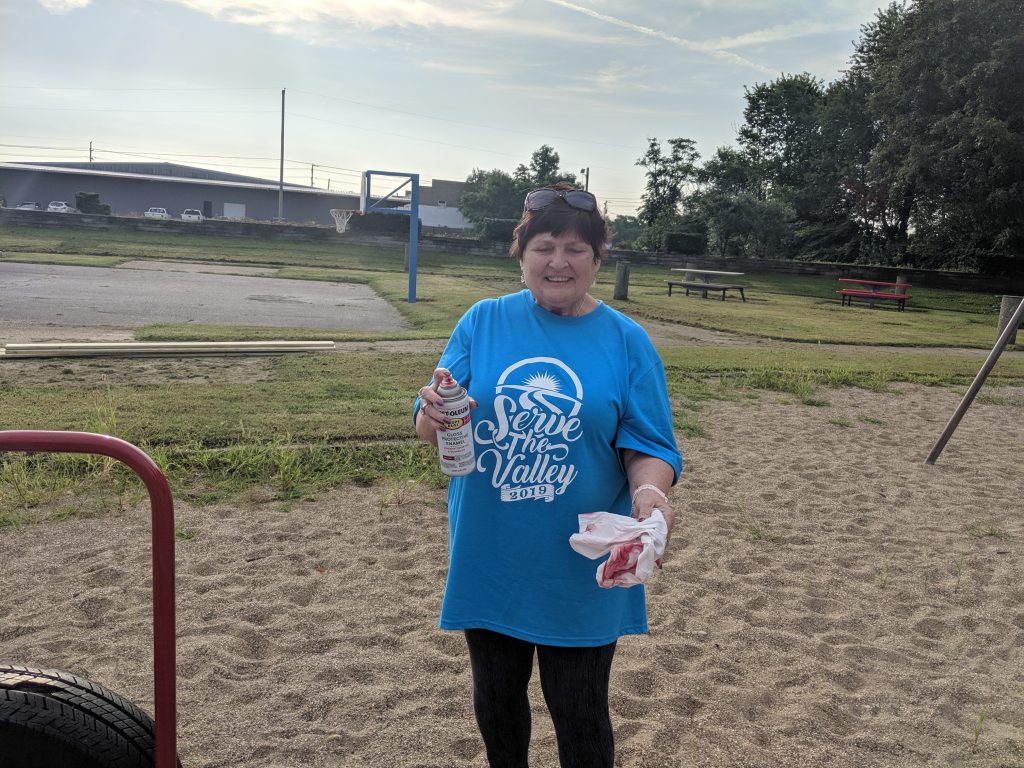 Another woman explained that Serve the Valley's Friday (July 26th) was the anniversary of her sister's death, and not only did she want to do something to keep her from dwelling on that fact, but she also wanted to do something in her memory.  In the middle of the playground is a welded metal outline of a truck, she's just started spray painting it red to make it bright and lively again.
They seem like little things, hardly worth mentioning, but to the parents and kids of Lockport Housing, Torchhouse and Serve the Valley is bringing back life to a place that they call home.  Little things can make all the difference and can turn people's days, weeks, or even lives around.
That's what Torchhouse is trying to do.
That's what Serve the Valley is trying to do.
That's what United Way is trying to do.