Who is United Way?  Over the past few weeks, I have introduced you to several members of our community.  They
fill various roles, but mostly go unseen in the general public.  They are there making big impacts and big changes, but few people know their names.
So, how about this man, Sheriff John Plasse, also a Board Member for United Way of the Wabash Valley.
While Sheriff Plasse is new to his role, he's a man that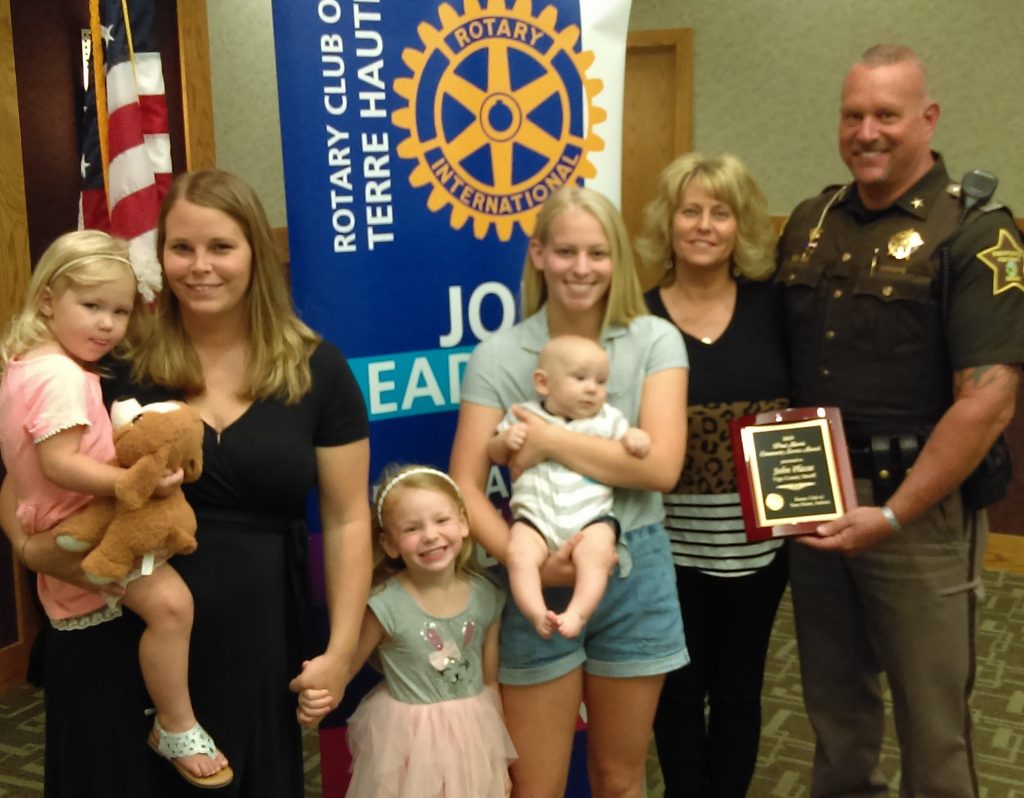 many know in our community.  He's publicly a serious and busy man.  Having already had to reschedule our meeting because something urgent came up for him at work, I walk into his office to set up for our interview.  He's busy writing a message to someone, and it's easy to see that its work-related by the urgency in his typing.
These brief first encounters with him show me that he is a man who likes getting things done and getting them done the right way.  It doesn't take me long to realize that he also likes getting these things done in an efficient and timely manner.
I ask the Sheriff to tell me about himself and if he's a native to the Wabash Valley.
"Been here all my life.  The army relocated me a couple of times for employment but other than that I've been a Terre Haute resident all my life." Straight to the point, John Plasse is.
"How long were you in the army?" I, the interviewer, pull for details.
"A total of 34 years." Ok. Admirable.
"Tell me about your family." I am hoping he can feel my Give Me More Information vibes coming off me like a crazy person.
"I have a wife Julie.  We have three kids and three grandkids now."  34 years in the army has stuck with this man like glue.
I ask him to tell me a story about one of his grandkids.  I'm not expecting much, but grandkid stories are always wonderful, no matter how short.
"It's not really a good story." He looks away and breaks into a big grin.  I can't help but laugh.  "My oldest granddaughter apparently had seen someone flip someone off." The age-old story.  "Of course, we tell her you can't do that, but its funny, when it's not public (just) with us.  She did that to her other grandpa the other day as we were leaving her T-Ball game.  He was driving his truck and said bye and she just flipped him the bird.  He started laughing.  It was just so funny.  It was just so spontaneous."  He keeps laughing.  He finds his granddaughter's mischief amusing, but the Sheriff shouldn't mention that, right?
Sensing I've found the secret to getting him to talk, I press on with the grandkids. I ask him how old his granddaughter is.
"She's four.  The middle one is two and the baby was born in January, so, almost five-months-(old).  So, even at her T-Ball Games, the two-year-old will run out there on the field because the fence isn't closed on the back.  So, she'll run out there, and we run and grab her back.  Just the little mischievous things they do all the time."  The smile is plastered to his face.  This big army man turned Terre Haute Police Chief turned Vigo County Sheriff is melting in front of me talking about his grandkids.
While he's beginning to thaw, I ask him to tell me something that's special to his family.  He tries to tell me nothing stands out, but immediately says that Halloween is "kind of a good thing." I smile.  People can always surprise you in the best of ways.
"My daughters love horror movies.  My youngest daughter loves horror movies and she's still at home.  SO that's who we spend the most time with.  I went to Orlando for a conference.  On the radio, they said something about Hollywood Studio fright nights or something, Universal Studio Fright Nights and I thought, 'Oh, she would love that.' So, we usually go there on fall break for that now… She'll scream, you know, in the scare zones.  If you scream, they'll chase you around.  That stuff doesn't bother me at all.  I don't jump.  I don't scream. Obviously, if they get a reaction out of someone, they're going to follow that person.  So, it's kind of funny.  I watch and just kind of get my camera and follow her and my wife to just see.  My wife will scream too.  My wife, in the haunted houses, you know how they've got employees in there to make sure no one does anything wrong, and they'll have them standing in the corner of the room watching.  My wife turned the corner and screamed, and it was just the employee sitting there.  So, I was like what are you doing?"
As he's telling the story he's having a hard time stopping himself from laughing to tell the story.  It's not an uncontrollable laugh or even a consistent laugh, but it's not the stoic Sheriff man from the beginning of our interview.  It's rather heartwarming, mischief and all.
When I ask him how long he's been working with United Way, he tells me he has been on the Board for three years.  When I ask for a project he's been involved with that was one of his favorites, I expected to get a big general answer of an entire program.  Richard, it was the new model for United Way.  Kristi, it was strategic planning.  Brandon said it was the Real Men Read program.  John, however, went a bit more specific.
"The Day of Service," now known as Serve the Valley," because that helps the whole community."  He even takes it a step further, "The one we did at the children's Museum.  It was really simple. They the design to make a bookcase." A straight to the point project sounds about right.
So, what went on during that Day of Service, and how and who made that bookshelf with Sheriff Plasse?
I'll tell you.
Next time.