Terre Haute Children's Museum and Sarah Scott Middle School Host Camp Curiosity: Basic Training
The United Way's Youth Success Impact Council awarded 3 programs for its successful student transition initiative. One grant award went to the Terre Haute Children's Museum which has partnered with Sarah Scott Middle School to help incoming 6th graders have a successful transition into middle school. By partnering with the museum, Sarah Scott Middle School has expanded on its participation in Where Everyone Belongs (WEB) through the Boomerang Project. WEB has successfully transitioned 6th graders for over 25 years by addressing the three fundamental transition needs that every student has: Safety, Information, and Connection.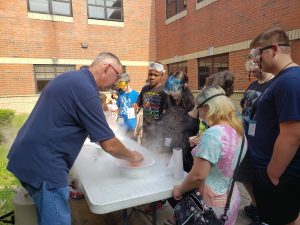 To help further the need for connection, Sarah Scott WEB coordinators wanted to find a way to keep incoming students together for longer than the standard one-day orientation, without adding stress to teachers. As a result, they used the student's love for STEM which emerged because of their school's Silly Science Day to turn Camp Curiosity into a weeklong camp.
The free weeklong camp known as Camp Curiosity: Basic Training brought together WEB Leaders, who are 8th-grade students, and incoming 6th graders to further strengthen the relationship between them, so the 6th graders would be more comfortable when school starts. Through connections and comfort at school, the hope is that students will have better attendance, grades, and behavior, and will become more involved once school begins. This is important because studies show that if students have a positive experience during this critical transition to middle school, the chances of them succeeding increase.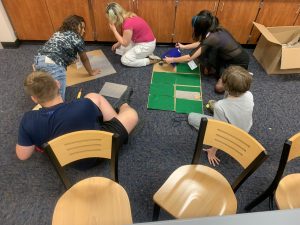 In the first year of the program, 23 students participated in the camp, which took place in June 2022. The students were from 4 different elementary schools. This allowed students to make connections with students from other schools, easing the pressure of meeting new people and making friends when school started. The camp took place at Sarah Scott to give the students a chance to become familiar with the building before school. Scotia Brown, principal of Sarah Scott Middle School, said, "I am so grateful for the United Way of the Wabash Valley and the Terre Haute Children's Museum's support because this program is truly going to make a difference in the lives of these 6th and 8th graders. I am so excited to see what the next few years hold as we continue to grow this program!"
Gianna, an 8th-grade mentor, shared, "It was really fun to participate in the camp because I got to connect with the new 6th graders and be a role model for them." She also shared, "My favorite part of camp was making the golf courses with the 6th graders because I was able help to them."