United Way of the Wabash Valley's Youth Success Impact Council has partnered with the Vigo County School Corporation to expand its literacy focus with a new program, "Reading Neighbors". The program invites community members to read aloud to first and second-grade students to improve emerging reading skills, using a special selection of books that also help children strengthen self-awareness, decision-making, and interpersonal skills vital for success in school, work, and life.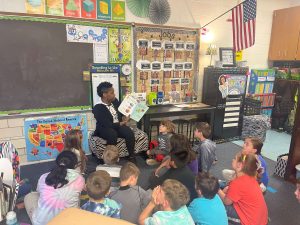 By focusing on teaching these specific skills, the program is working to help develop children's social and emotional skills. Taradara, a published author, saw these skills in action during her last classroom visit. During this visit, she read a book called Do Unto Otters, which is about treating others how you would like to be treated. This message was put into action when she saw how a young girl's peers reacted when she got emotional while telling a story. The peers reacted by consoling her and trying to make her feel better which emphasized the message of the book.
In addition to being a published author, Tradara McLaurine is a motivational speaker, a three-time alumna of Indiana State University, and a loving wife and mother. She has also worked in higher education for over 15 years. Her most recent accomplishment is publishing a book called I Want a Nickname this year. The story focuses on a young girl with a very unique name and her journey to find a nickname. The other books she has written are called Why Mommy Works and Why Daddy Works.
Her passion for writing and reading was one reason why she volunteered for the Reading Neighbors program. She said, "I got involved because I love giving back to the community, and it's also so important for children to see women of color and people who look like themselves reading." Overall, she loved the experience and said the kids get more excited with every classroom visit!