A new program to curb substance use disorders is coming to Vigo County starting on November 1. "Choose Law Enforcement Assisted Recovery," or the CLEAR Program, has been in development over the past two years. It is a collaborative effort, coordinated by United Way of the Wabash Valley, and involving the Vigo County Prosecutor's Office, Terre Haute Police Department and Vigo County Sheriff's Office, along with local service providers Next Step Foundation, the Wabash Valley Recovery Center, and Mental Health America of West Central Indiana.
The new public safety program has the potential to reduce future criminal behavior of individuals with substance use-related, low-level justice system involvement in the community. Through the program, law enforcement will have a 24/7 option to bring immediate support services by a Peer Recovery Coach, to a detained individual at the point of contact. The Prosecutor's Office can also offer the program services over the three days following a citation or arrest.  The program is not a pre-arrest diversion, meaning that individuals will still be cited to court or arrested. Still, those participating may be eligible for favorable treatment from the Prosecutor's Office.
Richard Payonk, Executive Director of United Way of the Wabash Valley explained how the program came about.  "As part of a federal grant we received, we were introduced to similar programs around the country and able to research their results. When we reached out locally, we got a great response from our own judicial system, law enforcement and service providers. A large advisory team helped with the initial discussion, then we worked out the details with a smaller steering team. It has been a great process and team effort to put together something that can be a win-win-win for our community, our law enforcement, and most importantly those seeking recovery."
Participants choosing to enter CLEAR will work directly with the Wabash Valley Recovery Center through a Peer Recovery Coach. The coaches themselves have been successful in their own recovery process and have received special training and certification to help others experiencing similar situations.  The coach will work side-by-side with program participants to create a recovery management plan with set goals to address their substance use disorder, any mental health needs, and even basic needs. Participants' progress will be planned and tracked through an online platform called e-Intervention, which includes and connects over 500 local service providers.
The Prosecutors' Office will review participant's progress at 45 and 90 days into the program.  If the individual is compliant and progressing on a treatment plan, their case can be dismissed and no charges filed. If an individual quits CLEAR or is found to be non-compliant, the Prosecutors' Office will proceed with the original citation and charges. To participate in CLEAR, individuals must meet strict eligibility criteria including criminal history and offense level restrictions.
Shawn Keen, Chief of the Terre Haute Police Department, explained how CLEAR could make a difference for people in our community. "While still maintaining accountability, this law enforcement-assisted recovery program provides officers the ability to get those with addiction-related issues contact with immediately available resources. Having officers initiate this early intervention and access to treatment, has the potential to aid in recovery and reduce future negative interactions with the criminal justice system."
Another potential positive aspect is that the program also has an opportunity to reduce cases in the Prosecutor's Office. Vigo County Prosecutor Terry Modesitt explained, "The CLEAR Program has a committee of dedicated stakeholders behind it. We're excited for the work the Wabash Valley Recovery Center can do for these individuals and hopeful they will take this opportunity. Each person who chooses to engage with the help they need may save their life and that's really the important part. Of course, for our office, less low-level cases to process improves our efficiency in all other areas."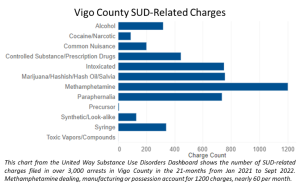 Vigo County and the surrounding communities continue to face a large-scale substance use disorder problem.  To quantify the issue and help bring public awareness, United Way launched a community dashboard (https://uwwv.org/substance-use-disorders-impact-council/) that tracks substance use disorder-related arrests in their 6-county service area. In Vigo County alone since January 2021, over 3,000 arrests have been made for a substance use disorder-related offense.
Dana Simons, the co-founder and Executive Director for the Next Step Foundation, wants the community to know that recovery options are available in the Wabash Valley. "Ten years ago, this would not have been possible.  There were limited options for those who sought recovery. But now we have a robust recovery community, with plenty of beds and treatment options. Our e-Intervention platform that United Way has assisted in funding, brings all of our community service providers together. That network is fully engaged with each other." Simons added, "When our law enforcement officers allow these struggling individuals to choose recovery, our network will stand behind them and we can work together to reduce substance use disorders in the community. But we know individuals have to take accountability for their actions and their recovery. CLEAR will give all of us a place to start."
Mental Health America also assisted in the program development on the steering team.  With additional grant funding, MHA is currently developing plans for a 24/7 crisis center which would allow the CLEAR Program to expand beyond simply addressing substance use disorders, but also provide options for law enforcement to immediately bring mental health services to those in need. The team hopes to bring this important expansion later in 2023.
Case management services and staff funding for the CLEAR Program are provided by grants secured through United Way of the Wabash Valley and the Next Step Foundation. This allows the program to be free for participating individuals and at no additional tax burden to the local community. Neither city or county funds will be used to administer the program.  For more information on the CLEAR Program, contact United Way of the Wabash Valley at (812) 235-6287, or Molly Isles at the Wabash Valley Recovery Center at (812) 917-0068.
###
United Way of the Wabash Valley is an organization looking to go beyond temporary fixes to create lasting change in our communities throughout our six-county region. By bringing together volunteers, companies, and organizations focused on innovative solutions, we impact thousands of lives every year right here in the Wabash Valley.  Our new bold goal is to move 10,000 local families out of financial struggles.  For more information, please visit, www.uwwv.org.
###
The Next Step Foundation is a faith-based, non-profit recovery community in Terre Haute, Indiana designed for those who are serious about overcoming their addiction to drugs and alcohol. Next Step provides both residential programs and clinical services as well as recovery support services. Next Step is the founder and fiscal agent for the Wabash Valley Recovery Center, located at 500 Farrington Ave. in Terre Haute, IN, which is a peer center that acts as a one-stop resource hub in the Wabash Valley for all things related to addiction and recovery. All services provided at the WVRC are free of charge. For more information, visit www.nextsteptoday.org; www.wabashvalleyrecovery.org
###
Mental Health America of West Central Indiana is a non-profit organization that is dedicated to enhancing the mental health of the community and improving the quality of life of persons with mental illness through prevention, advocacy, education, and services. For more information on the agency, please contact Theo Hull, Director of Development at MHAWCI: [email protected].