Terre Haute, IN- The United Way of the Wabash Valley's Financial Management Council is awarding $77,000 in funding to Reach Services and Child-Adult Resource Services to implement financial literacy education for employees at their work. The United Way's Financial Management Council promotes financial coaching and income management and believes improving financial management skills is an important step in breaking the cycle of poverty and achieving United Way's bold goal of moving 10,000 families out of financial struggles and into stability.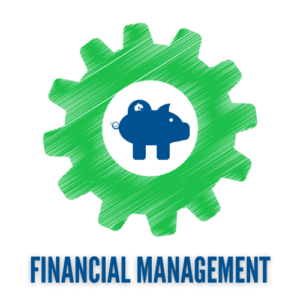 The need for financial literacy education among adults is important because many individuals in our community are living paycheck to paycheck which causes financial struggles. According to United Way's ALICE report, 44% of households in the Wabash Valley face financial struggles. Because of these issues facing our community, the Financial Management Council issued a grant opportunity, Financial Skills at Work, earlier this year that focused on proposals to expand financial literacy education in the Wabash Valley at individuals' places of employment.  
Reach Services and Child-Adult Resource Services were selected to implement the Financial Skills at Work grant. With $52,000 in grant funding, Reach Services is partnering with Great Dane of Terre Haute to implement a new Money Matters program for employees. Topics will include building and balancing a budget, understanding credit and borrowing money, how to increase their credit score, saving and investing money, homeownership, and savings for retirement. In addition to the course, Reach Services is partnering with The Hometown Savings Bank to offer a mentoring group once a month surrounding financial management. Reach Services will be offering participants a $200 incentive for completing a course and a $200 incentive for completing mentoring to help them create an emergency fund.  
Child-Adult Resource Services was awarded $25,000 in grant funding and is planning to partner with SmartDollar and First Financial Bank to provide financial literacy training for their employees. The SmartDollar program will teach individuals how to create and follow a budget, get out of debt, save for the future, and retire with confidence. There are a variety of goals for the program including save $1,000 for an emergency fund, pay off all consumer debt, have 3-6 months' emergency fund savings, have 15% of household income savings, have a college fund, pay off mortgage (or save for a home), generosity/giving back, and leave a financial legacy for your children. The program also offers opportunities for monthly group coaching and 1:1 coaching and will provide incentives for participation.  
Brett Taylor, Co-Chair of the Financial Management Council stated, "We are excited to have these organizations step up to the plate to provide financial skills training to individuals in the community.  It is important that these employers are offering their employees the ability to create a better future for themselves by learning how to manage their finances.  Change can start anywhere and we are glad these businesses realized the potential of offering this to their employees.  We are looking forward to seeing the lives changed and impact created by these two programs." 
Community members interested in getting more involved in the work of the United Way's Financial Management Council can contact Mark Johnson at 812-235-6287 or [email protected]