United Way of the Wabash Valley's Substance Use Disorders Council is hosting Learn+Connect: Substance Use and Recovery in Vermillion County on Thursday, July 28th at the Clinton Community Center at 5:30 pm.  This free panel member discussion event is focusing on the substance use disorder crisis in our community and what local organizations are doing to help.  A panel of local community members will help us better understand the problem, discuss local treatment options, and how recovery is possible.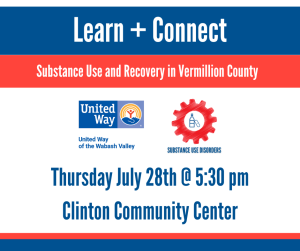 The discussion will be moderated by Penney Carpenter, the Executive Director of Community Development and Recreation of the Vermillion County Area Plan Commission, and Richard Payonk, the Executive Director of the United Way of the Wabash Valley.  They will help to facilitate engaging discussion from local panel members that will offer differing and unique perspectives on substance use, treatment, and recovery.  The panel members include:
Mayor Jack Gilfoy – City of Clinton Mayor
Billy MacLaren – Clinton Police Chief
Chris Strohm – Clinton Fire Chief
Michelle Edwards – Valley Professionals Community Health
Nick Hall – Deputy Sheriff – North Vermillion Schools
Quinn Fox – Probation Officer
Kristina Gruner – Recovery Advocate
The United Way's Substance Use Disorders Council is working collaboratively to promote well-rounded approaches to supporting prevention, treatment, and recovery solutions.  As part of that work the Council secured the Health Resources and Services Administration's Rural Communities Opioid Response Program (RCORP) Implementation grant for $1 million dollars over three years to expand service delivery for substance use disorders and opioid use disorders in the service area communities of Sullivan, Parke, and Vermillion counties.
This event is a way for the Council to listen to others in Vermillion County and drive positive discussions around substance use, treatment, and recovery.  It will help inform the Council of the unique struggles those in Sullivan County face when it comes to substance use disorder and finding treatment and recovery options and help others in the community better understand the issue.  There will also be opportunities for attendees to speak with and learn from local treatment providers.
Penney Carpenter, an event moderator stated, "This event provides for us, as Vermillion County residents, the opportunity to learn more about what is being done in our community and the challenges we are facing.  Recovery is possible! We can only make a difference when we are open to understanding there is a problem and be willing to help others."