United Way of the Wabash Valley announced today a new grant opportunity made available by their Financial Management Impact Council. The Council promotes financial coaching and income management throughout their six-county service area. Improving financial management skills is an important step in breaking the cycle of poverty and achieving the bold goal of moving 10,000 families out of poverty and into stability.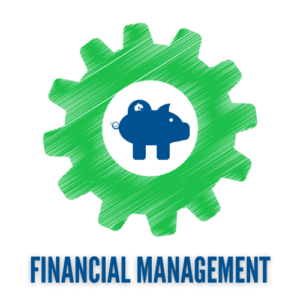 The need for increased financial literacy among adults in the United States is well-documented. In 2019, the Board of Governors of the Federal Reserve System reported that 12% of adults wouldn't be able to pay their monthly bills if they incurred an unexpected expense of $400 or more. Additionally, in 2018, the FINRA Investor Education Foundation found that in Indiana, 48% of individuals lack a rainy-day fund and 16% reported that over the past year, their household spent more than their income.
This has prompted the Financial Management Council to develop a grant, Financial Skills at Work, that focuses on proposals to expand financial literacy education in the Wabash Valley at individuals' places of employment.  The council believes strongly in meeting people where they are and want to incentivize participation in financial literacy training by offering it in conjunction with their employer. United Way is seeking proposals from qualified applicants to coordinate, manage, and monitor the training programs and provide post-training coaching/mentoring opportunities. Applicant organizations will work with an employer partner or partners to deliver convenient and incentivized financial literacy training to their employees. The goal of the program is to expand all participants' ability to understand and properly apply financial management skills such as family budgeting skills, encouraging ongoing savings to assist with emergency situations and retirement savings, as well as reduce the need to seek high-cost borrowing alternatives (credit cards & 'pay-day' loans) for unforeseen needs.
Brett Taylor, Co-Chair of the Financial Management Council, stated "Working for the past several years on building financial literacy skills, it has always been apparent that our community members have a need and want to learn how to make their hard-earned money work for them. I am incredibly excited the United Way is able to provide this funding to our community to help community agencies and employers work together to invest in our citizens and instill them with financial skills they need to make their lives easier, and their paychecks go further with the Financial Skills at Work Grant."
Richard Payonk, United Way of the Wabash Valley's Executive Director explained, "When we were developing our strategic plan 4 years ago we met with local business leaders.  We heard over and over of the struggles of their employee's financial health and that many leaders didn't know if and how they could help.  Our council took this information and wanted to be able to support those employers with this grant opportunity that will work alongside them to provide a collaborative approach to their employee's financial literacy.  We look forward to the new and innovative partnerships this grant will create."
The UWWV Financial Management Impact Council is making available $100,000 in funding to be provided over one year from the grant start date. Pending successful assessment of the program, these grants may be renewable. The Financial Management Council invites applications from any interested group or organization in the six-county United Way service area (Vigo, Vermillion, Clay, Parke, and Sullivan counties in Indiana; Clark County in Illinois.  Organizations interested in applying must submit a Letter of Intent package by April 4th and are required to attend an informational meeting on March 25th.  If interested, please RSVP to Mark Johnson at 812-235-6287 or [email protected]. For the full list of requirements and application details visit uwwv.org/funding.