This fall when the United Way kicked off their annual Resource Drive, they announced that they would once again be giving an incentive to help raise funds for their work towards their bold goal of moving 10,000 families out of financial struggles and into stability.  This incentive was a recurring theme from last year and was to give a lucky donor $10,000 cash.  It was only made possible with the long-standing partnership with Terre Haute Chevrolet sponsoring the incentive.


Danielle Isbell, Resource Development Director of United Way of the Wabash Valley stated, "We are excited to once again award $10,000 cash as this year's campaign incentive to a deserving individual who has donated to make a difference in our community.   We owe many thanks to Terre Haute Chevrolet for their generous donation of this year's cash incentive to our United Way. We're proud of this long-time partnership and grateful that they continue to incentivize donors across the Wabash Valley to join the fight for our community."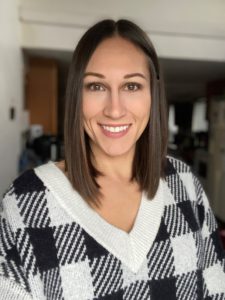 Isbell explained that three names were drawn at random from the campaign incentive entries.  The finalists included Katie Dilling from First Financial Bank, Linda Garza from Terre Haute Savings Bank, and Andy Smith from Hamilton Center.  Those three individuals met at Terre Haute Chevrolet to try their luck at picking the correct box that contained the prize money. The lucky winner… Katie Dilling!
Donors earned chances to win the $10,000 cash based on their donor support.  New donors earned 1 entry for a donation under $25 and 2 entries for every $25 donation.  Returning donors earned 1 entry for matching their last year's gift and 2 entries for every $25 increase over last year's gift.  All donors received 20 additional entries for donations over $500.  This year there were over 15,000 entries from nearly 1,400 donors. Isbell explained, "While there is no real way to know what incentivized a donor to give, by tracking some key donor increases and retention, we estimate this $10,000 incentive brought over $95,000 in new funds to our United Way."
Kevin Cauble, General Manager of Terre Haute Chevrolet explained, "Terre Haute Chevrolet and the Romain Automotive Group believe in giving back to their community.  In doing so we are proud to support the United Way and all they do for our community. We believe in the work to address the root cause of poverty and truly make a difference in the lives of others while creating a stronger community for us all.  We truly enjoy being able to give back to others with this partnership."
###
United Way of the Wabash Valley is an organization looking to go beyond temporary fixes to create lasting change in our communities throughout our six-county region. By bringing together volunteers, companies, and organizations focused on innovative solutions, we impact thousands of lives every year right here in the Wabash Valley.  Our bold goal is to move 10,000 local families out of financial struggles.  For more information, please visit, www.uwwv.org.
About Romain Automotive Group (Terre Haute Chevrolet) Since 1964, the Romain Automotive Group has experienced continuous growth. Operating dealerships that represent several new vehicle brands, including Chevrolet in Terre Haute, as well as quality selections of the most in-demand pre-owned cars, trucks, and SUVs at market competitive prices.  Since its inception, Romain Automotive Group has strived to deliver a unique dealership experience to each customer. The dealership's pursuit of quality customer service is paramount and comes from our commitment to ongoing company and manufacturer training.
# # #