The United Way of the Wabash Valley's Success By 6 Impact Council released their Kindergarten Readiness Report for the 2020-2021 school year.  This report is a comprehensive overview of a data study conducted by the Success By 6 Impact Council across kindergarten classes in 7 local school corporations that assesses the preparedness of the kindergarten students in the Wabash Valley upon entry to school.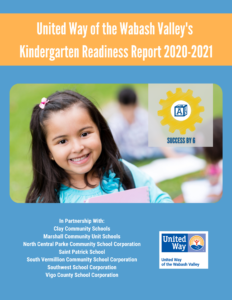 The mission of the United Way's Success By 6 Impact Council is to prepare our local children to enter school ready to learn by supporting early childhood education in our community.  This data study is in its second year and is intended to be a year-over-year measurement tool for the Council to assess if the programs and initiatives they are implementing are moving the needle on preparing children for school with high-quality early childhood education.  With measurable improvements in kindergarten readiness, United Way expects to advance its overall bold goal to move 10,000 families out of financial struggles and into stability.
It is essential for children to begin school with a set of skills that provide a strong and lasting foundation for their education.  When children begin school behind it can lead to issues as they work to catch up with their classmates.  According to a 2015 study by the Bridgespan Group, children who start school on a firm footing have an 82% chance of mastering basic skills by age 11, compared to only 45% for children who lack adequate preparation.
Kindergarten classrooms across the Wabash Valley already perform a variety of industry-accepted assessments, but there was no consistent measurement being used which allowed for a community-wide picture of children's preparedness for kindergarten.  The Success By 6 Impact Council, composed of experts in the early childhood education field, combined these industry-accepted readiness assessments to create a Kindergarten Readiness Checklist.  The Checklist included an assessment of 15 skills for teachers to complete based on their initial observation of children entering school.  The Success By 6 Kindergarten Readiness Checklist was completed using random sampling in 96 classrooms across 7 school corporations including Clay Community Schools, Marshall Community Unit Schools, North Central Parke Community School Corporation, Saint Patrick School, South Vermillion Community School Corporation, Southwest School Corporation, and Vigo County School Corporation.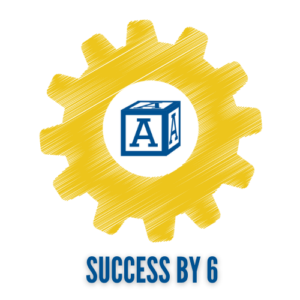 The results of the assessments were assembled with each of the 15 skill categories averaged.  Those numbers were then compiled and normalized on a 100-point scale for an overall "Kindergarten Readiness" score of 78.  This compares to the first-year score of 75 and allows the Council to track the trend from year to year.  This score is not a grade, but a way that United Way can demonstrate if their efforts, along with other community support programs, are making a difference for the children in our community.
Beyond explaining the method and giving the overall community score, the Kindergarten Readiness Report highlighted trends in the data.  Natalie Pugh, Success By 6 co-chair and Director of Child Care Resource and Referral with CASY, explained, "Our Kindergarten Readiness Report provided insight into the benefits of early childhood education and high-quality pre-kindergarten experiences.  The data collected helped us identify that those children not attending a pre-K program scored an average of 65 while the overall community score was an average of 13 points higher.  This highlights the importance of pre-kindergarten and more importantly high-quality early childhood education beginning at birth, which is why our council focuses on learning from birth to 5."
This is the second measurement report from any of the United Way Impact Councils.  Richard Payonk, United Way's Executive Director explained, "We are very proud of the Success By 6 Council for establishing this community-wide measurement and producing a second report to share with the community.  This report is only possible with the collaboration from school corporations, teachers, and our volunteers.  The United Way is working to create long-term change and this report allows us to track the effectiveness of the work we are doing."
The full report is available here and more information on the Success By 6 Impact Council is available at uwwv.org/sb6.