Small businesses play a critical role in maintaining a thriving local economy, and people tend to support businesses that also support their community.  The United Way of the Wabash Valley has developed a new program to allow businesses to easily assist the community with their 365 Small Business Circle.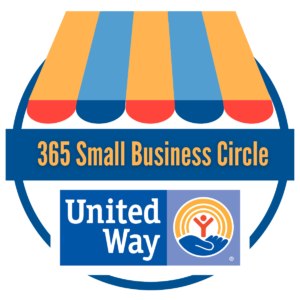 This past year has created many unique challenges for small businesses in our community, but it has also brought to light the increased needs across the community.  The United Way of the Wabash Valley wanted to create an easy way for small businesses to invest in positive change for all in our community, and receive some recognition in the process.  The United Way's bold goal for the community is to move 10,000 households out of financial struggles and into stability, but they can't do it alone.  They need the community's help to accomplish this work on a large scale. This program encourages local businesses to join the movement and help increase the impact of the United Way of the Wabash Valley to meet the growing demands of our community.
The 365 Small Business Circle allows small businesses to provide an investment at a level of their choice ranging from $1/per day to $5/day or $365 to $1,825 annually.  This investment will support the collective impact work of the United Way, and also provide benefits to the business based on their investment level.  One of the most noticeable benefits is the 365 Small Business Circle window cling.  This decal can be placed on the window of participating businesses to show their customers that they support the community.  Other benefits include a business listing on the United Way's website, networking with other businesses, and promotion in the community.
Danielle Isbell, Resource Development Director of the United Way of the Wabash Valley explained, "You don't have to be a big corporation to make a difference.  This program is an affordable and easy way for a small business to give back to a large community goal.  We know that when our community is strong, our workforce and small businesses benefit.  And with an investment in the United Way, we are working to support the best programs and initiatives to create lasting change for those across the Wabash Valley."
For more information about the United Way 365 Small Business Circle or to sign up visit uwwv.org/365.