United Way of the Wabash Valley has awarded a total of $325,553 to 13 organizations across the Wabash Valley that are providing safety net and COVID-19 relief services.  This large-scale funding opportunity was made possible by generous donations to the United Way and the Wabash Valley COVID-19 Emergency Relief Fund which was created in March of 2020 by the United Way and the Wabash Valley Community Foundation.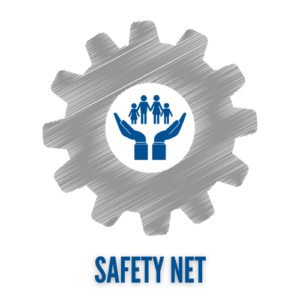 The organization's typical annual safety net funding provides resources for vital services such as food, shelter, and clothing, many of which have been amplified by the pandemic.  The pandemic has also created additional needs which this funding opportunity was open to address including focusing on behavioral health including suicide, domestic violence, child abuse, and other issues our community has seen an increase because of the pandemic.  These needs play a pivotal role in closing the gap for those who are in desperate need in our community.
List of awardees include:
American Red Cross was awarded $15,000 to provide disaster cycle services to help families facing disasters such as flood, tornado, or house-fire.
Brazil First United Methodist Church was awarded $12,000 for their Somethings Cooking Pantry Blessings which provides weekly meals and a pantry to local families.
Catholic Charities of Terre Haute was awarded $15,000 for their Bethany House which aids vulnerable individuals to meet basic needs of life and avoid homelessness.
Covered with Love was awarded $5,000 to provide disposable diapers, wipes and other baby hygiene products to families in need.
Family Support Services of West Central Indiana was awarded $20,000 to provide immediate and long-term help to victims and their dependents of domestic violence.
FSA Counseling was awarded $60,000 to provide preemptive programming and community resources.
Hamilton Center was awarded $5,990 to provide staff training to provide them with additional skills to help them assist clients struggling with pandemic-related stressors.
Kid Kare Project, Inc. was awarded $15,000 to provide items and financial assistance to children ages 0-18 in Parke, Vermillion and Vigo counties.
Manna from Seven was awarded $24,000 to provide food to needy individuals and families.
Mental Health America of West Central Indiana was awarded $51,260 to provide Applied Suicide Intervention Skills Training (ASIST) across the Wabash Valley.
Next Step Foundation was awarded $40,000 for their Vigo Parke Resource Response Team which is a partnership between Next Step and the Parke County Resource Center and will serve low-income families and individuals to meet their basic needs.
Terre Haute Meals on Wheels was awarded $56,903 to expand their meal delivery program and emergency food boxes to Brazil, IN.
The Avenues, Inc. was awarded $5,400 to help provide safe, affordable and healthy sober living environment for women in recovery.
Richard Payonk, Executive Director of the United Way explained, "The stresses the pandemic is causing on our community is important to the United Way that we created one of the largest single-focused grant opportunities that we have ever funded.  While the United Way is working to take a comprehensive approach to address generational poverty in the Wabash Valley we know that we must act today to address immediate needs.  Our bold goal to move 10,000 families out of financial struggles and into stability is long-term, but safety-net services provide the first step for many to move forward and remove barriers that are holding them back from success.  With the pandemic, we have witnessed first-hand that for families that are already struggling the smallest setback can be catastrophic.  These expanded safety-net programs will help create a way to aid those that find themselves in a tough situation and create a stronger foundation for families moving forward."
Stuart Powell, United Way volunteer, and Safety Net Review Team lead expressed gratitude, "As with all United Way investments into the community, volunteers reviewed applications and awarded these grants to the most deserving organizations.  There were over 25 individuals who took the time to ensure we invest United Way's donor resources in the best way possible.  We commend all the applicants for their great work and look forward to seeing these awarded organizations continue to meet the needs of those struggling in the Wabash Valley."