United Way of the Wabash Valley's Success By 6 Impact Council's Real Men Read program is celebrating its 10th year. Over the course of years, it has had a huge impact on our community, specifically the youngest among us.  Real Men Read is a program that provides adult male leaders in our community the opportunity to visit kindergarten classrooms multiple times a year to read children's books to the students. The students are then given a copy of each book of their own to take home and add to their personal library for at-home reading. This program and all of its efforts are working to encourage the youngest of our community to engage in the hobby of reading by providing them an adult male role model to show them that reading is fun. United Way believes that the collective reading in class and sending children home with books will assist in them engaging with reading for joy and as an avenue of learning.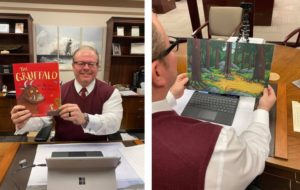 This year has presented its own challenges, but the Success By 6 Council was determined to be creative and continue the program.  The reading mentors are connecting to classrooms across the Wabash Valley via Zoom so they could continue to read stories to children, and still provide the children with books to take home. This year there are 107 reading mentors across the United Way's service area of Clay, Parke, Sullivan, Vermillion, and Vigo Counties in Indiana and Clark County in Illinois.
A longtime volunteer Real Men reader Eric Michaels explained, "In my experience as a Real Men Reader I have cherished the relationships that we build with the students.  The bond that we build reading 4-5 times a year and the excitement the students have when we arrive is very gratifying.  I hope the children build a love for reading and get a foundation for literacy, but also, I hope they take away a positive male influence that the men in the Wabash Valley bring into the classroom.  Unfortunately, many children may not have that positive influence and the time we spend with them helps to build that role model in their lives."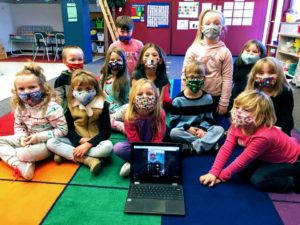 Over the 10-year history of Real Men Read the United Way has been able to supply over 120,000 books to students across the Wabash Valley.  These books are meant to be ways to encourage a strong start to their educational journey that includes creating a love of reading and learning.
The United Way's Executive Director, Richard Payonk, had the following to say about the Real Men Read program, "Real Men Read is a great example of an initiative that has a profound and lasting positive impact.  We are thrilled that our Success By 6 Impact Council continues to make this program available to all school corporations in our 6-county area.  Research has repeatedly shown that reading aloud to young children, particularly in an engaging manner, promotes emerging literacy and language development.  Add in our male role models and the fun they have with each classroom, and it's easy to see how our kids come to know that reading is fun and for everyone.  Our community is fortunate to have such great reading mentors and fantastic kindergarten teachers who have embraced this program for so many years."
The United Way would like to thank the countless reading mentors, men that were willing to devote the time to read to these students and set an example for them.  In addition, this program wouldn't be possible if it were not for community support in the form of donations to supply the books and volunteers to coordinate and execute the program.  This program is a true example of the community Living United for educating our youth.