An annual United Way of the Wabash Valley Success By 6 Impact Council project is seeing a change due to COVID.  For years the Success By 6 Council has been providing Family Literacy grants to community organizations to nurture a love for reading and learning with interactive literacy events for young children (0-5) and their families.  With the added stress of the pandemic and heightened protocols for childcare providers, the Success By 6 Impact Council has decided to shift the program.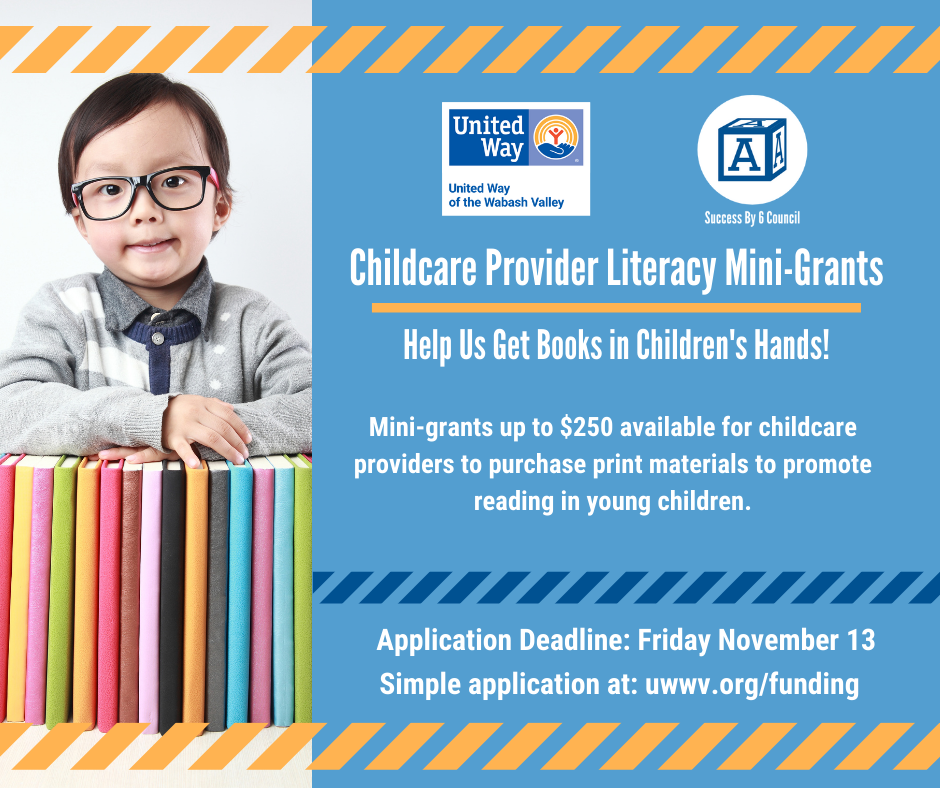 This year Success By 6 is offering the Provider Literacy Mini-Grant opportunity which will award mini-grants up to $250 to childcare providers so that programs can continue to provide high interest literacy print materials in a manner that best meets the current needs of the families and children they serve.  Funds can be used to purchase print materials in a variety of ways including take home kits, book giveaways, classroom library materials, or even small group activities as examples.  The goal of the Success By 6 Provider Literacy Mini-Grants remains the same to nurture a love for reading and learning in young children (0 – 5).  The only request of the Impact Council is to get books directly into the hands of children.
Instilling a love of reading at an early age is imperative in creating a foundation for lifelong learning.  Research shows that promoting reading in early childhood development promotes brain growth and helps to prepare students for kindergarten.  This mini-grant opportunity is just one of many ways that Success By 6 is mobilizing community resources to ensure that young children are provided with nurturing learning environments during the critical development years of birth to 6 to ensure that children enter school ready to succeed.  Preparation of our children for a lifetime of success works toward the United Way's bold goal of moving 10,000 families out of financial struggles and into stability.
Holly Curtsinger, the Director of Indiana State's Early Childhood Education Center and the Success By 6 grant chairperson, stated that, "childcare providers were deemed essential workers by Governor Holcomb back in March, and many have been providing front line services and face to face care throughout the pandemic. As a committee, we recognize the challenges the profession is facing. We want to recognize the efforts of our providers who are working diligently to continue to create high quality early learning environments and, at the same time, demonstrate a commitment to our mission of supporting literacy-based opportunities."
The United Way will award multiple grants with each at a maximum amount of $250.  Grant applications will be due to United Way by November 13th.  For more information and to download the simple application visit www.uwwv.org/funding or contact Mark Johnson at [email protected] or 812-235-6287.