The Wabash Valley COVID-19 Emergency Relief Fund has awarded a total of $343,000 to four organizations as part of the second tier of large-scale grants.  Different from the weekly rounds of short-term small-scale grants of up to $5,000, these awards are intended to assist local organizations in helping a broader amount of individuals and families with both short- and long-term COVID-19 related needs.
In mid-March, the United Way of the Wabash Valley and the Wabash Valley Community Foundation created and seeded the Relief Fund to quickly and effectively grant resources to community-based organizations to address emerging needs in our community as a result of the COIVD-19 pandemic.  While the Fund has been awarded short-term relief grants weekly since March, a targeted request for proposals was sent in July to organizations identified as having the capacity to provide significantly greater relief efforts in "needs areas" determined by the local community input. This grant opportunity allows for the expansion of existing programs or the creation of new programs to meet the ever-changing needs arising from the pandemic.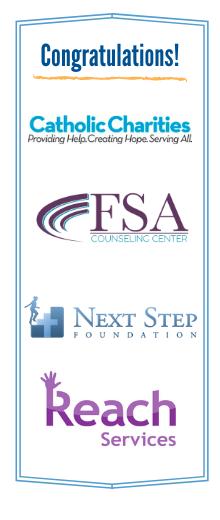 The organizations receiving funding for programming include:
$52,500 for Catholic Charities of Terre Haute Foodbank to meet the increased demand across the community for the food insecure.
$100,000 for FSA Counseling to expand their counseling services with additional staff, as well as provide expanded services to first responders and the Valley's underserved population.
$90,805 for Next Step Foundation, Inc. to facilitate a safe sober living facility and implement a smartphone platform for a broad digital recovery community.
$100,000 for Reach Services Pathways for the Homeless for case management, rent and utility assistance, aid in job seeking, and a supplement to state and federal funding for the homeless.
"COVID-19 has affected everyday life across the Wabash Valley, leaving many families struggling in the wake of medical, emotional, and financial consequences," explained Hicham Rahmouni, Executive Director of the Richard G. Lugar Center For Rural Health and chair of the United Way's Community Impact Committee, who oversaw the grant process.  "Individuals and families who have not struggled before are now relying on the support provided by these organizations, and many others. The United Way is proud to contribute to this important work aimed at not only lifting individuals up but also eliminating the disparities in our community."
Richard Payonk, Executive Director of the United Way of the Wabash Valley explained, "Both United Way and the Community Foundation seeded the Wabash Valley COVID-19 Emergency Relief Fund, but the growth has been beyond our expectations.  With the generosity of Lilly Endowment Inc., local business contributions, and individual donors, we have been able to secure close to $1.4 million to address the great need created by this pandemic.  We are in a unique position to be able to pivot to address the most pressing needs in our community by partnering with great volunteers and community organizations to distribute much-needed resources."
Overall, the Wabash Valley COVID-19 Emergency Relief Fund has been able to provide Tier 1 – $5,000 or less- short-term grants totaling over $599,000 to 93 different organizations since March.  With the award today of these larger-scale grants, the organizations are placing the Tier 1 funding on hold.  Payonk reported the organizations are continually assessing the fund mission and are in the process of developing a strategy based on the current state of needs in our community. "We hope to announce another funding opportunity soon."
More information on the Relief Fund is available at uwwv.org/covid.
###
United Way of the Wabash Valley is an organization looking to go beyond temporary fixes to create lasting change in our communities throughout our six-county region. By bringing together volunteers, companies, and organizations focused on innovative solutions, we impact thousands of lives every year right here in the Wabash Valley.  Our new bold goal is to move 10,000 local families out of financial struggles.  For more information, please visit, www.uwwv.org.
###
The Wabash Valley Community Foundation is a tax-exempt public charity created by and for the people in the Wabash Valley. The Community Foundation enables people with philanthropic interests to easily and effectively support the organizations and issues they care about – immediately or through their estate plans. Donors may give to existing funds or establish a charitable fund at the Community Foundation by contributing a variety of assets. For more information on the Community Foundation, please contact 812.232.2234 or visit www.wvcf.org.