In early 2018, the United Way of the Wabash Valley introduced a bold long-term goal for the community to move 10,000 families out of financial struggles and into stability. A new focus on the root causes of generational poverty has seen the organization and their volunteers working to develop new methods and partnerships. Over the past 18 months, the organization has conducted Idea-Share and Learning Sessions throughout their 6-county area, providing education on the effectiveness of collective impact problem solving and recruiting volunteers to drive their new effort through "Impact Councils." Each council formed will use United Way resources to drive solutions directed at the key contributors to generational poverty. Today, United Way is announcing significant progress with the introduction of new investment opportunities offered through their new impact councils.
The Success By 6 Impact Council promotes healthy early childhood development to ensure children enter school ready to succeed. A core focus is the availability and affordability of high-quality childcare that will positively impact the measurements for "kindergarten readiness" and lay the foundation to prepare children for lifelong learning.
"Research shows that a child's brain develops more rapidly in the first five years than in any other time in their life," said Natalie Pugh with Chances and Services for Youth and Co-Chair of the Success By 6 Council. "This means that the quality of care a child receives in their early years significantly influences their long-term growth and development."
In 2018, just 16% of children ages birth to 5 in the Wabash Valley were enrolled in high-quality childcare or early education programs. This is far behind the state of Indiana average of 37%. An estimated half of Hoosier children arrive in kindergarten lacking basic academic and behavioral skills. "If more children had the skills and abilities they need to be successful in school when they started kindergarten, they would have a greater opportunity to achieve success in high school and beyond," Pugh continued. "Our council understands that to impact generational poverty, we must give children the opportunity to change their future and really the future of our workforce."
Quality of childcare is evaluated in Indiana by the state implemented Paths to QUALITY™ program. A comparable ExceleRate program exists in Illinois. The programs use a 1 through 4 rating scale wherein each level builds on the foundation of the previous. Quality childcare typical includes those facilities rated at levels 3 or 4.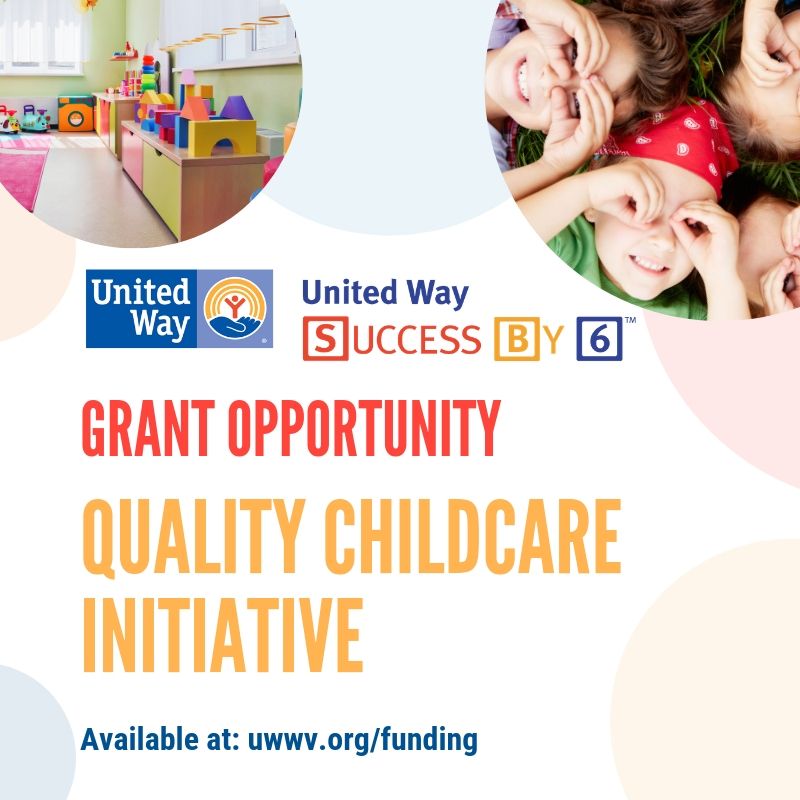 The United Way's Success By 6 Impact Council announced today it will make available up to $100,000 in funding through a request for proposal grant process. The two-year grant opportunity called the Quality Childcare Initiative is available to childcare sites that will use the funding to affect one or both of the following objectives:
Increase regulated capacity in an existing Levels 3 or 4 Paths to QUALITY or ExceleRate
Illinois program; or
Attain Level 3 or 4 in Paths to QUALITY or ExceleRate Illinois for an existing program.
A similar community investment completed in 2017-2019 showed great results, creating 126 new and permanent openings at Level 3 or 4 rated childcare facilities. Pugh says the council seeks to replicate that success with this new grant offering.
A second Impact Council formed in early 2019 is the Substance Use Disorders Council, focused on well-rounded approaches to supporting prevention, treatment, and recovery solutions. Jaymie Wood, Executive Director of Family Services Association—a long-time United Way partner—and Co-Chair for the Substance Use Disorders Council spoke about their work. "By providing supports to substance use disorder, we can help break the cycle of poverty by relieving stress on many families and children affected by this issue." The council has taken the charge of measuring, reporting and reducing the number of substance-use-disorder-related arrest records, and substance-use-disorder-related Department of Child Services removal records by implementing the best possible programs funded through United Way donor support.
Some of this Council's initial discussion focused on evidence-based programs that show great results in other communities. One key area showing great results involves Peer Support Services. Wood explains that "Peer Recovery Specialists are a form of peer support used to aid in substance use disorder treatment. This approach utilizes the lived experiences, combined with training and supervision, of a person who has walked the path of recovery from substance use disorder and is employed to assist others in their journey of recovery. Peer Recovery Specialists can work in a range of settings, including recovery community centers, recovery residences, drug courts, and other criminal justice settings, hospital emergency departments, child welfare agencies, schools, and behavioral health settings."
Peer support services have been shown to reduce symptoms and hospitalization readmission rates in some states by as much as 56%. Unfortunately, there are challenges in the Wabash Valley to secure the training and certification, as well as implement and manage the services. By providing accessible and affordable training in all six counties it will enhance the community and move forward the ability to provide peer recovery services to individuals and families in need.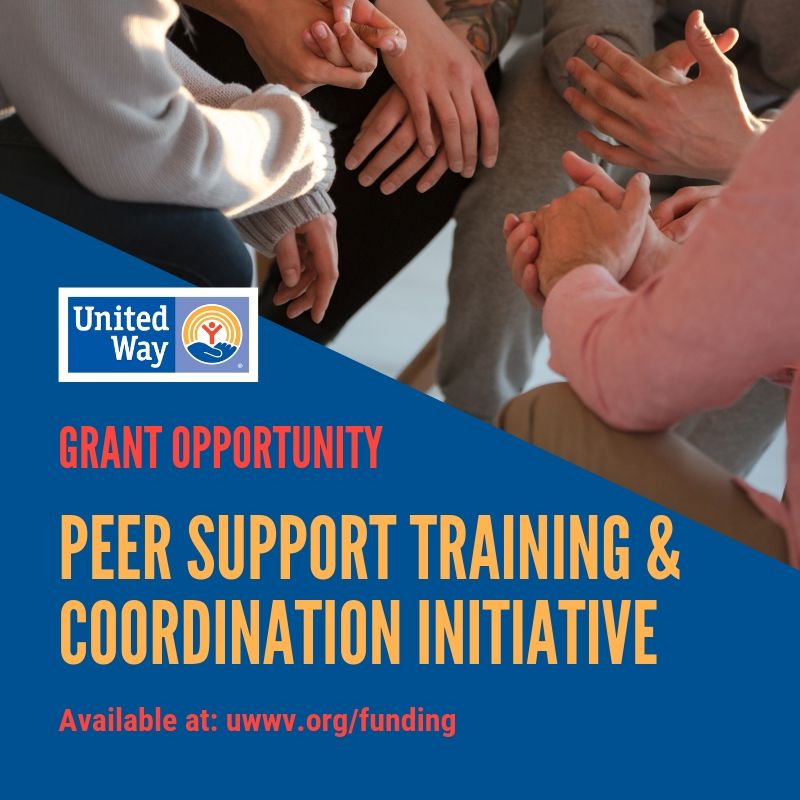 The Substance Use Disorders Council announced it will make available up to $50,000 in funding as it seeks an applicant or applicants for all United Way of the Wabash Valley service counties (Clay, Parke, Sullivan, Vermillion, and Vigo in Indiana and Clark County in Illinois) to recruit, train, coordinate, manage, and monitor peer-led training and to further develop and maintain a certification program for Peer Support Specialists and Family Support Peer Specialists in the Wabash Valley. The grant hopes to produce as many as 60 new individuals trained as Peer Support Specialists and completing the certification process over the course of the first year.
Those interested in applying for these funding opportunities can find the full request for proposal documents on the United Way website at uwwv.org/funding. Letters of intent, the first step in the application process, are due September 25th. Both of these councils will have additional investment opportunities that will be released for funding applications later this fall.
If individuals are interested in donating to support the funding of these specific initiatives or impact councils, they are encouraged to visit United Way's website at uwwv.org.