Success By 6, a local initiative of the United Way of the Wabash Valley, is working to promote reading every day to children by providing Book Boxes to local early childhood education and daycare sites.  The Book Boxes are small lending libraries with books that are available for children to borrow on a daily basis.  Child care sites are the target of the Boxes because of the natural fit of finding a place that parents/caregivers were on a regular basis with their children.  These locations allow families the added convenience of taking books home without an added stop, but they should not replace the library.  The local library can provide a multitude of additional benefits beyond just selecting a book to take home.
It can be a challenge to keep new book titles in front of children so having a lending library with rotating books will be available to engage more children and families in reading daily.  It is also important to bring the books to where the families are in order to make it convenient to take and return books.
The Book Boxes were made possible from the Indiana Association of United Ways and the Lily Foundation that matches our donors' generous gifts which allow the United Way to provide great programs in our community.  The Book Boxes will be distributed to over 30 locations initially, and with 30 books in a box the program will be providing 900 books into our community during its first phase.  "Reading is essential to children's development and this program is working to help our children have access to engaging reading materials and also instill in our families the importance of reading together," said Holly Curtsinger a Success By 6 committee member.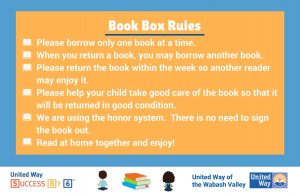 Success By 6 works to provide each child the opportunity to develop basic reading skills so that they may enter kindergarten ready to learn.  Research shows that reading to children from birth stimulates their brains and helps prepare them for learning, for school and to become a future reader.  It is essential that our community recognizes that learning begins at birth and the foundations for learning are established during the developmental years of birth to 6.  This program promotes literacy and is working to set children up to succeed in school which will work into the overall goal of reducing the generational poverty in our community.