Who is United Way?  Obviously, its Abby Desboro.  She knows the neighbor's cow and is passionate about the community.  Finding common ground in the community, she even helped give volunteering a new face.
Serve the Valley made its first appearance last year, 2018, replacing the Day of Service that has been in place for the past twenty years.  In some ways, it fell into Abby's Lap.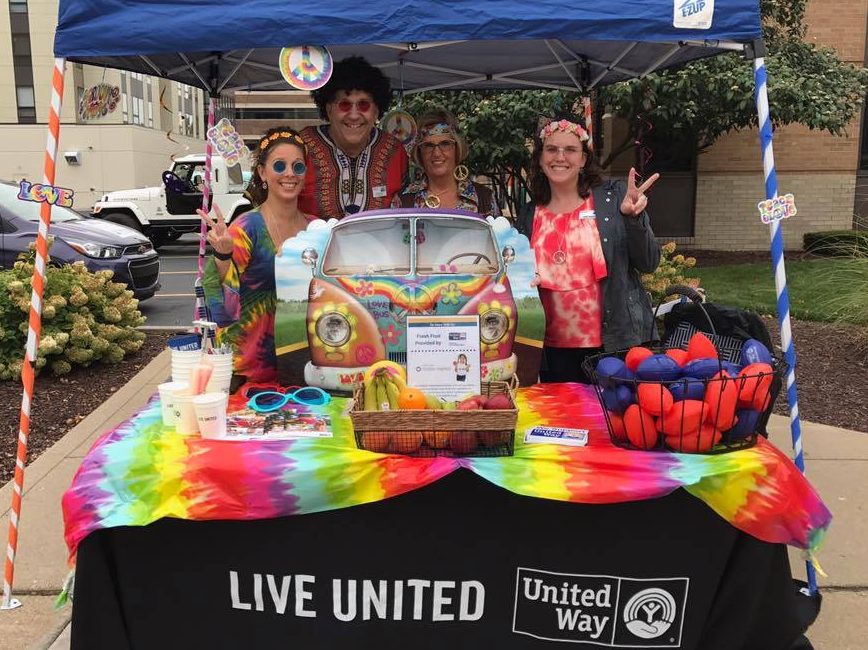 "Maryland Community Church reached out to us, and they were going to run their own event.  Both of us just kind of looked at each other and said why would we run our own, you guys kind of know what you are doing.  But I knew that what we were doing was kind of at capacity.  So, we had started a Volunteer Wabash Valley website that could actually house our jobs.  We were doing it all by hand (before).  All by spreadsheet.  People would email, and then we'd have to keep track of where people were going.  Like I said we were kind of at capacity with that."
Abby tries to explain everything in detail, but she's so excited she keeps jumping around.  The thought of making a real impact sets her on fire.
"Being able to utilize that website we built all kinds of new processes and ways that we could have people sign up.  We opened it up to even more organizations than we had in the past.  People who had never heard of United Way or people who were involved with the church were reaching out to us."
Having an extra helping hand through Maryland Community Church and doing two days instead of one brought on some serious results.  Not only were people given more access to being able to volunteer, but it brought in almost twice the number of volunteers from the previous Day of Service event.  Individual organizations began doing team sign-ups across the valley.  Bible study groups, groups of workers from Union Hospital, and many other small teams gathered together to volunteer and make a difference in our communities.  To Abby, it was heaven.
"It was just so much nicer to just go around, we try to divide and conquer, and try and thank as many volunteers as possible.  I got to visit a lot of cool locations and a lot of people doing cool stuff and really giving back their time and talents to organizations.  It was even somebody's birthday that I found out was leading a job, so I went and got cupcakes and a balloon for him and gave it to him.  I knew that they had worked really hard the night before on their project and it was day two on the job.  I knew that they were exhausted.  So, I took it and gave it to him as an extra thanks for doing it on his birthday.  I know it's us providing them volunteers, but they're doing these organizations a lot of work to provide the opportunity for people to give back to.  It doesn't just happen."
Abby has driven it home that volunteers are how communities prosper.  Many organizations that help out our communities don't have a lot of spare funds.  Adding people to the work roster just isn't an option.  Finding one person to fix a broken desk or a group to pull weeds is an amazing blessing to these groups.  As someone who has only been here a short while, even I can see the tremendous need for a few extra pairs of helping hands.
An organization can't save the world by itself.  Abby knows this. So, I ask her the final question.
"What is United Way to you?"  I'm not surprised by what I hear, and that is a good thing.
" United Way to me is about working together.  It's about getting the right people around the table and working in collaboration.  You know we have our Live United tag line, but I really think that it is about these issues (that) are way too big for one organization to handle.  So, we shouldn't be all doing our own thing.  We need to be talking.  We need to be communicating and understanding what each (of us) is doing.  I just really think that United Way is the way that we can get all of us on that same playing field."
Abby's job may be marketing and promoting United Way, but what she's really working toward is building a better community.  She's working to give people ways to work together and figure out what works best for our community.  It's not a one-person job, and she's trying to help everyone figure that out.
Whether its just basic community problems or something more specific it takes more than one person to pull everything together.  That includes something as specific as early childhood education.  Next week I'll introduce you to a woman who has been working towards making a co-operative community for early childhood education before she even realized that's what she wanted to do.