The United Way of the Wabash Valley has awarded a total of over $516,000 to five organizations as part of the second wave of Covid Relief grants.  These grants will be used to support our community in meeting basic human needs brought on by the Covid pandemic.
This grant opportunity was made possible from a second COVID-19 Economic Relief Initiative Grant from Indiana United Ways, the state professional association of which United Way of the Wabash Valley is a member.  The grant is one of 47 grants that Indiana United Ways is making to member organizations and community foundations through the initiative, which was made possible by funding Indiana United Ways received from Lilly Endowment Inc.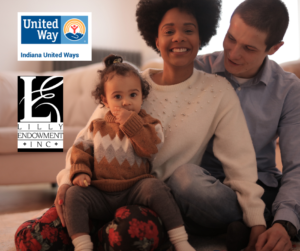 "United Way of the Wabash Valley has been a key convener and coordinator of our community's response to meet human needs for decades. Even before this crisis, we knew that nearly 40% of families in the Wabash Valley were not able to make ends meet – despite working.  In the wake of COVID, those needs became even more dire. Thanks to the generous, continued support of Lilly Endowment to our State Association, we can continue to help our community, through nonprofit partners, deal with and hopefully resolve the impacts of this trying time," said Richard Payonk, Executive Director of the United Way.
The second COVID-19 Economic Relief Initiative grant calls for United Ways that receive funding to leverage partnerships and relationships to better meet COVID-related basic needs aligned with the social determinants of health as defined by the CDC.  The organizations receiving funding for programming include:
$11,587 for Catholic Charities of Terre Haute Foodbank to meet the increased demand across the community for the food insecure with Mobile Food Pantries
$140,150 for the Housing Authority of the City of Terre Haute to establish a "Getting to Work Fund" to remove barriers for employment for individuals
$33,700 for Parke County Resource Center to build a storage shed and increase supplies for patrons of the Center including food, hygiene, and diapers
$143,932 for Reach Services Pathways for the Homeless for case management, rent and utility assistance, aid in job seeking, and a supplement to state and federal funding for the homeless
$187,622 for Mental Health America of West Central Indiana to begin a Tenant Advocate and Mediation Program to aid families and help avoid evictions
"We are fortunate to have great community partners that recognize the diverse needs and develop plans to respond to them.  These organizations are just a sampling of the many across the Wabash Valley that has and are continuing to address the effects of Covid in our community," Payonk explained.  "United Way's work will continue to help the struggling working families across the area in hopes of creating a stronger overall Wabash Valley with more family stability."